PERFECT PITCH
The vocalist.org webmaster writes about his
search for perfect pitch.


Foreword: I am an instrumentalist who has had some jazz singing and classical singing training. My interest in perfect pitch is primarily from an instrumentalist's point of view. I play acoustic guitar and saxophone. I believe perfect pitch would particularly benefit my jazz improvisation on the saxophone, though I acknowledge that a good sense of relative pitch is much more important for any musician. I personally feel no need for perfect pitch in my singing.
Some suggest that to have perfect pitch is a disadvantage for a singer. I do not believe this to be strictly true, although I agree that if a person has developed perfect pitch at a young age, they may not have developed a good sense of relative pitch, and if this is the case, that person would be disadvantaged as a singer. Such a person should be able to overcome their disadvantage by spending time to develop a good sense of relative pitch to go with their perfect pitch. I believe that if a person has a good sense of relative pitch and then develops perfect pitch, they will not be disadvantaged as a singer when they develop perfect pitch.




Perfect Pitch or Absolute Pitch is the ability to recognise tones without first hearing any reference tone. A person with perfect pitch can tell you whether a note is F, Eb, C# by recognising the inherent quality of the individual tones. Perfect pitch differs from relative pitch. Many musicians have developed a good sense of relative pitch - the ability to recognise intervals. Few musicians have perfect pitch.

Can perfect pitch be learned? Does one have to be born with this 'gift'? While it may be true that some people exhibit this ability from an early age, I firmly believe that one does not have to be 'born with' this ability.

Consider this - we acknowledge that a small number of musicians do have perfect pitch. We therefore acknowledge that there must be some kind of intrinsic difference between each of the twelve tones in the chromatic scale. Quite simply, if this intrinsic difference was not there, then perfect pitch would not be possible. Those with perfect pitch must be hearing some kind of quality in each tone. Do they have computer-like brains which subconsiously count the number of vibrations per second, or do they have open ears which can pick up subtle diffferences in quality between the twelve tones?

Also consider this - many musicians acknowledge that pieces of music often do not 'sound right' when transposed to a key other than the original key. Why does this happen? All the intervals are the same whatever key we transpose to - relative pitch has not changed from one key to the next. So, why does a transposed piece of music appear to take on a different meaning than the composer seemed to intend? I contend that all of us with and without perfect pitch are responding to a sub-conscious realisation that the quality of the notes has changed when we transpose key. In other words, we are on one level hearing the same differences in quality of the twelve tones that those with perfect pitch hear. Each of us has a latent and most likely undeveloped ability to here these tone qualities. Each of us has the ability to learn perfect pitch!

I started to train my ears to learn perfect pitch in summer 2000. It is now late 2003 and I have in no way been regular with my ear training. In fact I have only trained my ear for perfect pitch for a total of 138 days. However, the results so far are promising.

I started with the well known David Lucas Burge Perfect Pitch Course. However, since I had nobody to practice with I really needed some way of being regularly tested with random tones. I did not just want the tones to be random since a gradual prograssion of tones is advised - ie, start with C,D,E,F - then C,D,E,F,G - then C,D,E,F,G,A etc. I found two pieces of software that have been very helpful; Fig. 1 below shows graphs of my results so far. For the first few weeks of testing with C,D,E,F I was using the Pitch train software which tested me in all keys. I then moved to EarTest which allowed me to choose which keys the random notes would be played from. I am now tested on notes picked randmoly from the four keys around middle C. Hearing the tone quality is more difficult in the extreme upper and lower ranges. These ranges can be added later when one becomes more practiced. Each dot on the graph indicates the percentage correct answers out of an average of around 265 notes for each session ( 15 to 20 minutes ).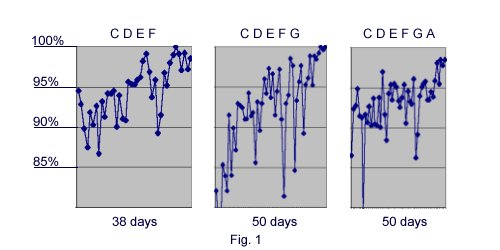 While I can not yet say that I have learned perfect pitch, I believe the graphs do show that there has so far been a steady trend up to the 95% - 100% correct answers in each range. One is advised to add another note when one is consistently achieving more than 95% correct.

Questions/comments? perfectpitch@vocalist.org
John Cheshire's profile on Google+

Further reading
Chris Aruffo discusses perfect pitch in depth and his ear training software is available from his site ( vocalist.org has not tried his software )


I have not tried the PurePitch Ear Training Method so I can not comment on it.